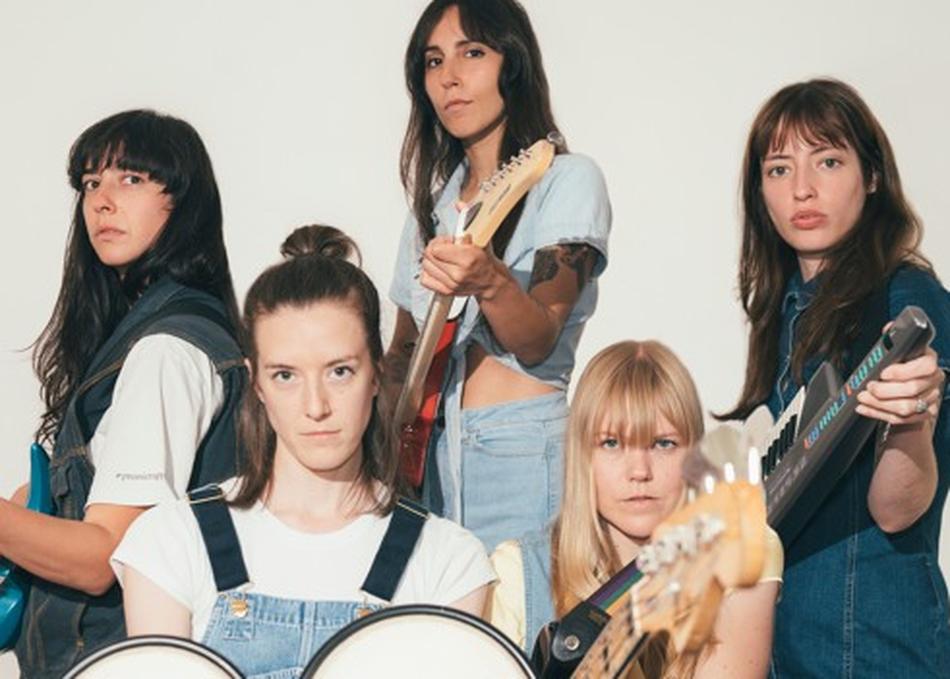 The London-based instrumental quintet Los Bitchos–the name sounds like mangled Spanglish, and subtracting one letter turns it into a decidedly masculine bit of Spanish slang– is too much fun to be quiet about. Los Bitchos describes their sound as "instrumental psychedelic sunshine Cumbia," which is an admirably way-out-the-mainstream way of saying they want you lose yourself dancing but you'll have to make up your own words if you want to sing along.
If you've never heard cumbia before and check it out even a little bit, you'll probably hear that Los Bitchos's music shares core grooves with the deeply rooted Latin style. But, cumbia is a big tent, and the subgenre of cumbia that Los Bitchos feels most deeply is the Peruvian variety, chicha. Chicha, which has its roots in the 1960s, fuses the broad cumbia groove with influences native to Peru and influences from the 1960s rock of the United States and England. If you dig 1960s surf rock and contemporary purveyors of the style such as the Mermen, chances are good you'll dig a lot of chicha.
And, chances are good that you'll dig Los Bitchos, because they have what it takes to vault a band's identity beyond identification with a genre: memorable songs and palpable band chemistry. At present, their song catalog is small, with a handful of singles out and no full length album. But their too-short live-in-studio set from late 2019 was tight, dynamic, and attention-holding from start to finish, suggesting the possibility of a full album that replicates their live magnetism. Melodies are seemingly uncomplicated, but deceptively involved. They take solos and break down, but these departures from the song themes take breaths or build energy, rather than travel off into their own realms. It's certainly not wrong to think of Los Bitchos's music as poppy, because it's catchy, body-moving stuff. But, without a blink, they also work a cover of a tune by the neo-psychedelic weirdo-muso ensemble King Gizzard and the Lizard Wizard into their set.
The rhythm section of bassist Josefine Jonnson and drummer Nic Cranshaw is both nimble and stable, and the band as whole has a great feel for a shift to a faster tempo that brings just-right excitement without going hyper or frenetic. Serra Petale and Carolina Faruolo are a highly complementary guitar team, whether splitting rhythm and lead roles cleanly, taking melodies together, or playing call-and-response single-note lines. And, Petale and Faruolo have nice ears for guitar tone variations; the right enhancement with reverb and echo, a watery vibrato, and/or the occasional fuzztone are always at hand, giving Los Bitchos's sonics a bright, modern-retro vibe. With songwriting, sound color, band interplay, and the hard-to-put-a-finger-on factor of stage presence, Los Bitchos is a band that can draw in a broad audience, even without vocals at the center.
Los Bitchos have already had many gigs on the touring and festival circuit in Europe. They were set with a bunch of upcoming gigs in Europe and a with a United States debut in April 2020 at South by Southwest, until COVID-19 hit and shut down live-music events around the world. When the world gets right and live music takes off again, a lot of people will be ready for a band this dance-friendly. One of my immediate reactions to Los Bitchos is that they would have gone over huge back in the day at my old college pub, where I imagine they would have packed the floor and pulled even the dance-phobes off the perimeters. I have to imagine that would happen anywhere they show up.
©2020 Guitarete/Alan Barry