In under one year, New York-based jazz guitarist Gilad Hekselman has released two strong collections as the primary artist: Ask for Chaos (September 2018) and Further Chaos (May 2019). Each features tracks by two ensembles that Hekselman leads. His GHex Trio consists of Helselman's guitar, accompanied by stand-up bass and drums. In ZuperOctave, Hekselman takes charge of both of guitar and bass in a setting that also includes keyboardist Aaron Parks and drummer/percussionist Kush Abadey. With Hekselman making liberal and dramatic use of effects and his bandmates also embracing electronics, ZuperOctave finds startling and original sonic territory. It's electronically-touched organic music that is, above all, jazz. More specifically, it's sonically exploratory, harmonically adventurous jazz that doesn't sound to me like what is usually called "fusion," for the lack of rock-oriented beats. The track "Stumble," from Ask for Chaos, is one among many ZuperOctave highlights.
"Stumble" arrested me immediately with its memorable opening melodic figure and a lush sound so whole it's sometimes hard to tease apart Parks's keyboards from Hekselman's guitar.
They play the head together, with each weaving in chords at choice moments, blurring melody and accompaniment roles. It quickly becomes evident that the opening arpeggio figure is actually the end of the tune's chord progression. From a listener's point of view, this is a very nice move; the progression ends with something we already know when the form turns around, a true hook! Throughout, the lowest notes are created by Hekselman on his six-string, processed with an octave pedal. See here for some (not quite current, but still useful, thoughts on his setup. Perhaps Hekselman's Boss OC-3 Super Octave pedal is the inspiration of the group's name. ) Even as he balances the low end with chords and lines in the usual guitar range, Hekselman achieves a variety of bass textures, using slides, muting, and varying degrees of blending of his guitar's natural range with the pitch-transposed signal. Following the head, Hekselman melts both his "bass" and his guitar into a spare, but supportive, bed for Parks's Fender Rhodes solo.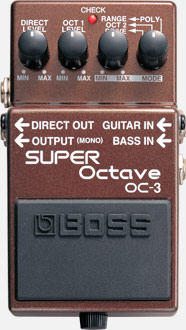 About five minutes into "Stumble," following the second appearance of the head, Hekselman and Parks release themselves from the tune's changes and build a shimmering web of sound out of the opening hook (which is played over a vamp on tune's concluding Em11-Am11/B chords). Hekselman loops layers of delay-drenched guitar lines–some reversed–that emerge and recede, before fattening his "bass" sound, and, finally, piercing the dense and sunlight-on-leaves-in-the-wind texture with upper-register, overdriven guitar tones in a captivating conclusion.
Gilad Hekselman – Stumble
● The studio recording of "Stumble," from Ask for Chaos (2018). My thoughts above are based on listening to this version.
Stumble (Woodstock Session)
● A solo performance of "Stumble," with it's ZuperOctave feel fully intact. Breathtaking stuff!
● Hekselman uses GarageBand, of all things, for the drums. It's just one loop, and it's not very present, but, wow, after hearing this, no one can doubt that simple tools can be used to make real music—as long as they are in the hands of the right musician!
Gilad Hekselman, Marco Panascia, Steve Lyman "Stumble" live
● A take on "Stumble" played by Hekselman in a trio format that uses stand-up bass and a standard jazz drum kit.
● Shot at Utah State University in February 2018. The video quality is not great, but it is fascinating to hear Hekselman explore "Stumble" in a third format.
Miles Davis – Fall
● The original recording of "Fall," from Miles Davis's Nefertiti.
● A little research reveals that Hekselman's "Stumble" is based on the chord changes of Wayne Shorter's "Fall," which was composed by the tenor saxophone master and debuted on Miles Davis's Nefertiti, while Shorter was a member of what is not-hyperbolically called Davis's "Second Great Quintet." Nextbop has an excellent analysis of covers of Shorter's "Fall", by Ben Gray, that includes interesting discussion of "Stumble."
● What rock have I been living under that, until recently, I hadn't paid attention to Nefertiti?! I don't know how many times I've listened to Miles Smiles—another famous album by the Second Great Quintet–but I'm happy to be blown away by more music from this venerable and historic ensemble.
© 2019–Guitarete/Alan Barry (excepting linked videos and images, which are the property of their respective owners)