With the arrival of People Mover imminent here (On Apple Music, it dropped at midnight on Monday, July 1), I've been listening to a lot of Scott Henderson's older music and getting excited about hearing new stuff from him. Below are five tunes, in chronological order, from Henderson's previous releases. They represent his early days as a sideman; his work as a key member of the fusion outfit Tribal Tech; an interesting one-off collaboration with bassist Jeff Berlin and drummer Dennis Chambers; and his solo albums, but there is no attempt at ranking and no judgment of what is absolutely essential in his catalog—except in a couple of cases.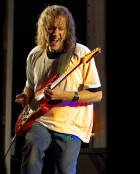 "Three Nighter," from Jeff Berlin's Champion (1985)
Champion was my introduction to Scott Henderson's playing. I knew Jeff Berlin from Allan Holdsworth's Road Games, and I was stoked to see that the bassist had Neal Schon and Neal Peart on his debut solo album, but it was the guitar contributions of then-unknown-to-me Scott Henderson that really turned my head around. On "Three Nighter," Henderson's rhythmic acuity shines as he riffs in unison with Berlin, carries melodic sections on his own, and digs in on solos that capture both bebop's melodic contours and its spaces and pauses right next to rock guitar moves.
Click "continue reading" for 4 more choice Scott Henderson tracks!
Continue reading